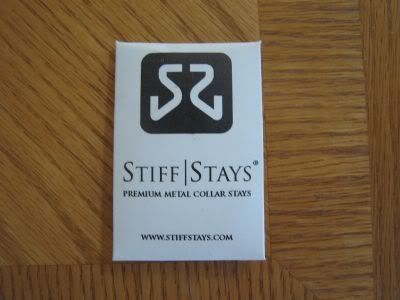 Reviewed by K.C. Kim
http://stiffstays.com/
The perfect way to travel with the collar stays is the Stiff | Stays which come in envelopes perfect for travel and glass vials which is perfect for home storage.  When I was searching for metal collar stays to replace the cheap plastic ones that are included with dress shirts Stiff | Stays was the first one I found.
Stiff | Stays have several collections but the Sapphire ones really looked attractive on their site.  When I received the Sapphire Stiff | Stays I was not disappointed as they looked impressive.  The Stiff | Stays Sapphire are made of 316L Stainless Steel with a Sapphire Color Plated finish.
The Stiff | Stays are very high quality with an amazing glossy Sapphire blue finished I'm dressed to impress when I put these on.  I used to buy my collar stays at Nordstrom but they wouldn't last long so I'm glad I found the Stiff | Stays which are made of first class quality material and finish.
Every time I put the Stiff | Stays on I feel like a million bucks and everyone complements me on my appearance.  For that dapper look you will want to get these Sapphire Stiff | Stays as they look better than anything you can find at the department stores.  If your looking for a quality metal collar stay and a low price then the Stiff | Stays fit the bill.
9.7 Out of 10
Buy it now here
Stiff Stays – Limited Edition Sapphire Collection Collar Stays (4 Pair Combo Set w/ Bonus Glass Storage Vial)
Disclosure:  http://cmp.ly/5/EPFpyN , http://cmp.ly/2/fMHE6A